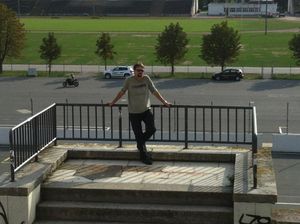 A few days ago my wife and I were travelling through Bavaria and we stopped in Nuremburg to do some sightseeing and visit some of the 2nd World War Memorials. One of the spots I have always wanted to see was the site of the huge Nazi Rallies that you see on a lot of on documentary footages. The exact place where Hitler walked up to the podium and delivered his fiery lessons on hate and arrogance. The place is called 'Zeppinfeld' because thats the field near where the first Zeppelin landed succesfully. The huge field and collonade ruins are right beside an idylic little lake that you can walk around and enjoy some nice scenery. The grandstand (collonade) where Hitler and over 200,000 Nazis gathered is now a place where skateboarders can practice thier tricks and you can play a great game of ball hockey or take motorcycle lessons in the lot. 
If your a guy with a good imagination, you stand on the podium and stare out over the huge field. You can start to imagine the insanity of the man and of those days. Too much power sitting on the shoulders of one man. Too much blind trust in dogma. Most of us do not have the moral fortitude to handle so many people trusting in us for so much. We get the God complex too easy. Ultimately it turns us into devils. We tend to want to control each other. It gets ugly.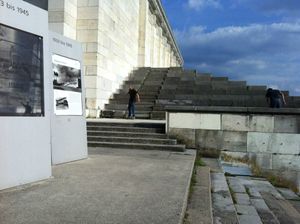 History lesson and thesis on human morality almost over now. You can take a look at the video if you want.