Definitely one of the more exciting things I have had the privilege of being a part of is the Hope For the Nations-Romania Project. My wife, Loralee , and I have served as Canadian liaison for this humanitarian effort for many years now and still travel to Brasov to keep ourselves updated and help out in any practical way we can. We recently had our friends and HFTN.RO Directors Mark and Correen Biech visit us in Kelowna for our annual budget meeting. These meetings are always extremely inspiring (yes, a budget meeting can be inspiring) and usually a lot of laughs too. This year they brought with them a special gift. Yes, it's a bowl of crap! Nobody at the meeting wanted to open it, but we were told it was actually fish eggs.. some kind of caviar or something. Mmmm.
This bowl of crap is sitting on the year end report papers that outline what our project accomplished in 2011.  I'll give you a few details on the newest sub-project, the Mobile Medical Unit (MMU).
Because of concerns in the rising incidents of Tuberculosis in Romania we decided to buy an RV and outfit it with donated medical equipment from Western Europe and among other things, use the MMU to start TB testing in outlying villages in collaboration with the Romanian Department of Health. As far as we know, this is the only MMU doing testing for TB in areas of the country where the average person might never even see a doctor during an entire lifetime much less take test for TB (which they couldn't afford to do anyways) Out of 300 people we have tested roughly 50% tested positive for TB.
If these statistics hold true across a larger portion of Romania (which is probable) that would mean that our MMU unit is on the forefront of detecting what could turn out to be a major epidemic of TB. This could easily spread well beyond the borders of rural Romania into the rest of Europe. If left untreated, TB is a killer of 50% of those it infects; Men, women and children. The statistics we have been able to provide from our trips to the villages are shocking to the Romanian Department of Health and they are now implementing a treatment plan for those who whom our tests have diagnosed.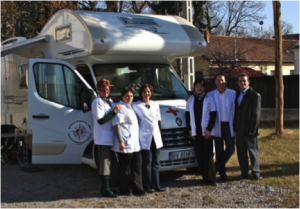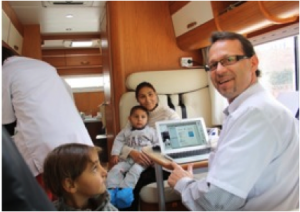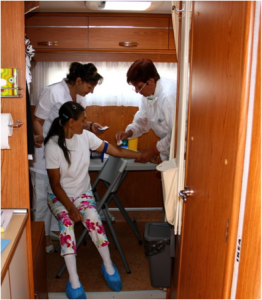 Another great project of 2011 was a organizing a successful medical training conference where doctors from Western Europe came to instruct doctors from the East in performing complicated congenital malformation correction surgery. Many children in Eastern Europe are still being born with defects as a result of the Chernobyl disaster. Over eighty children have had free corrective surgery by participating in conferences!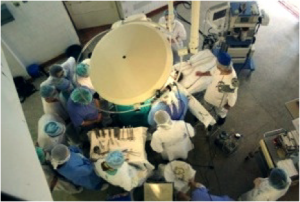 Loralee and I plan to travel in the fall back to Brasov to help with ESL training for children and other projects. Some of the people we visit when we go to Romania are living in conditions that most of us in Canada cannot imagine. It changes your perspective when you visit someone living in comparative squalor; someone who is trying to live a dignified life and yet cannot afford the most basic of what we take for granted every day here. Often it's a glimpse of the nobility of the human spirit. You can read about it in a report (or on this blog) or watch it on TV but sometimes I need to step into the rarified space of a ramshackle shack in a poor village to really see it. I am grateful for that bit of perspective and as an artist who is trying to say something with his music… perspective is always good.
Here is a video of project Director Mark Biech describing some of the plans for the MMU. This was shot just after they purchased the RV and before it was sent on its first mission.